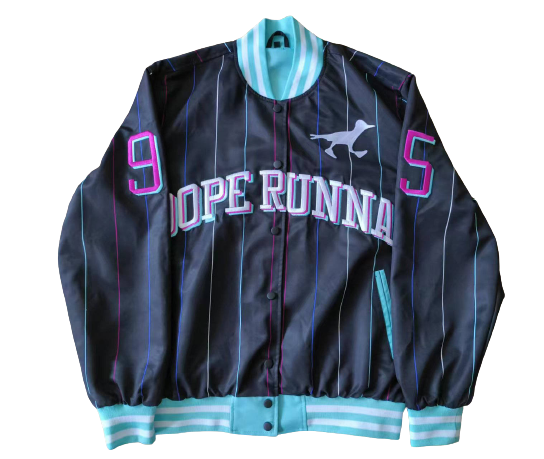 95 Max Bomber Jacket - Black x White - Unisex - 100% Embroidered
DOPE RUNNA CLOTHING
Regular price $149.99 $100.00 Sale
UNISEX 

NO MACHINE WASH FOR BEST RESULTS HAND WASH OR DRY CLEAN ONLY

Size & Fit

Standard fit is athletic and relaxed
Get your size 

Made from Sustainable Materials

This product is made with at least 50% recycled polyester fibers in an effort to turn a problem into performance by eliminating waste in our environment.
100% polyester 
100% Embroidered

Product Features

Smooth, weather-resistant fabric with warm insulation
Embroidered graphics on the front panel and side panels offer a heritage look
Therma-FIT technology helps manage your body's natural heat for much-needed warmth
Button front pockets provide safe and secure storage for small essentials

No Machine wash
The Dope Runna Sportswear Classic Bomber Jacket is imported.

Bundle up in classic  style with the Dope Runna Sportswear Jacket. Kick cold and wet weather to the curb by staying shielded from unkind conditions in smart technology that uses your body's natural heat to keep you warm.